Turkey Day Dressing...


It happens every year... you ponder what you'll wear for the big gathering. You want to look cute, yet fam-appropriate. You also need something that will either accommodate or camouflage your post-dinner bulge. Instead of trying to undo the top
button on your jeans without anyone noticing, this Thanksgiving, try rockin' an empire-waist frock. Here are five i found that will compliment most body types and fit a range of spending limits:
Bougie on a Budget

(
$

): Wear this $22.80 mock-neck sweater dress from Forever 21 with a cardigan to keep your arms warm.



A Little Wiggle Room

(

$$

): The layering options are endless with this $59.50 pleated denim shift dress from the Gap, and this $44.99 Isaac Mizrahi for Target merino wool turtleneck is a complete look on
its own.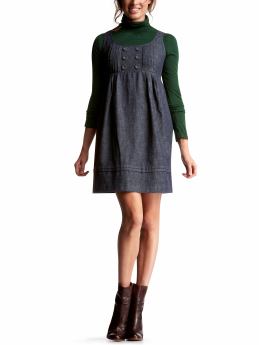 Extra Dough to Throw
(
$$$
): Do it demure in this $240.00 purple knit jersey dress from T-Bags or go girly with the "Lipgloss" ruffled dot dress from Joie. From
Net-a-Porter
and
Nordstrom
, respectively.
P.S.
Each of these dresses goes great with any of this season's footwear trends. Just make sure you wear opaque tights. Oh, and if you've decided that you're not doing any shopping until after Thanksgiving, I'm sure you can pair one of your dresses from summer with tights and a cardigan too.