Fit to be Tied...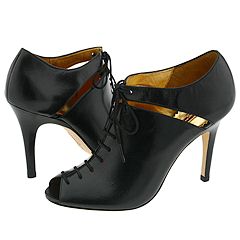 Menswear-inspired? Check! On-trend with this season's "shooties"? Check! Perfect with almost everything? Huge Check! I'm starting to twitch in anticipation just looking at this pair from Report. With the mercury doing a yo-yo job, these peep-toes will pair perfectly with my pencil skirts, colored denim and ev
erything in between. I may even do 'em with some of those great socks or tights that are all the rage this season. Not that I wear any of my shoes that often, but still, so many options. And at $189 on zappos.com, I can actually afford them.

Color Me Bad ("Not bad meaning bad, but bad meaning good")...
Imma be a bad mamma jamma in these "sari pink" treats from Rich & Skinny (even though I'm not exactly rich... or skinny). They're a great color for fall, and I can rock them with pumps, ankle boots, flats or what i like to call "come get me boots." I'm getting my "1 and 2 and..." on just to make sure I can get into them without doing "please fit me shimmy" when they arrive. The $176 Shopbop.com wants for them aint a bargain, but I'll spend an extra penny or two on my favorite hue.